So you've finished writing the most epic, killer blog post of all time. Now to promote it.
It's 3000+ words, PACKED with value and it will cause empires to fall, thunder to shoot from the sky and people will bow in reverence! Now, people just have to know it exists so they can read it…
Where will they find out about it?
Where the hell do you even promote your blog post?
Damn it.
There are so many options out there to promote your blog post yet most people simply pop a link on Facebook and then move permanently into their Google Analytics dashboard to watch to traffic pour in.
Then nothing happens.
We all know there are more places but few actually do the home work to find those places to share their posts. If you've got a solid following already and an Email List that's 100,000's deep you may not need to promote you blog post aggressively to every platform on Earth – but when you're in the early stages and growing you need to get the word out.
So below I've listed where you can share your post once it's published, increase your reach and get more traffic to your blog post.
Before you promote your blog post…
Make sure you write a Blog post that is packed with value, and information people actually want before you promote it.
Try cramming as much information that is valuable and actionable into your post as possible. Long posts often perform best, so aim for that 2500+ words and make sure that the content is easy to read, scannable and easy to navigate without having to read the whole thing.
Ready? Let's get to it…
First of all, Send an email out to your subscribers (duh)
If you don't have an email list, then you need to start one – it's the ultimate way to promote your blog post.
Create an Opt-In PDF, sign up for ConvertKit and start building your business. Email will get you far more visitors per subscriber than any other platform. So do not waste this! It seems obvious but it needs to be said.
I have a guide on how to start an email list right here.
Promote your Post on Your Facebook Page
You're already doing this, I know. Bravo!
But don't get complacent, keep up the good work. If you've been tirelessly building your Facebook following then you can get some solid traffic here. Another good reason is if you have supportive people on your page they may like your post before even reading it, it helps it travel further.
Besides, what's the point of having Facebook if you're not sharing your blog posts there?
Like this post so far? Why not share it on Facebook or Twitter?
Facebook Groups
You're still logged into Facebook, right? Good.
If you haven't already, do some research to find various Facebook Groups that are in your niche or topic and join.
Be helpful, comment, be a solid part of the group and when you publish your blog posts find a handful of groups and share them there.
Just make sure you read the rules of the group and don't go spamming 100's of groups in a short amount of time as Facebook will notice! Pick and a handful and test them out when promoting your blog post.
Tweet it Now
Twitter is another powerful tool for reaching more people.
If you have a strong following a single tweet can make a difference, and it's not hard to get your first 1000 Twitter Followers. But even if you don't, you can tag people in your tweet, find some relevant hashtags to use and even sign up for some retweet groups that make it easier for you to reach more people.
You can also source which hashtags to use by leveraging tools like RiteTag!
You can tweet more than once too, and reahc more people when promoting that blog post, soooo……
Tweet it later
Tweet later in the day.
Tweet tomorrow.
Tweet in a week.
You can simply log into Twitter and reshare your post. Even better, try to schedule your Tweet using automation software like Buffer. Another option which is totally free is to use is TweetDeck to schedule your Tweet.
This means you can sort this all out at the one time and have more bang for your blog post promotion buck. Booyah.
Promote with JustRetweet
Get some more retweets and spread even further into the Twitterverse by using JustRetweet.
This handy platform allows you to sign up and buy retweets with points you can either buy or accumulate by tweeting, liking and sharing others posts. This is a really cool tool and is one not a lot of people seem to take advantage of. So check it out!
Promote your Post to Your Google Business Page
If your website is a business, then you should go to business.google.com and sign up for a business page and start promoting your blog post there.
There you can post updates and links that people will see and even add an attractive 'learn more' button to your post – linking off to your blog.
Don't overlook Google Business, they're owned by this really big company that has a lot to do with search engines (apparently…)
Like this post so far? Why not share it on Facebook or Twitter?
Search Out Online Forums and Promote there!
Does your blog post solve a problem? It should.
Then search for forums related to your niche. There's usually a search function, type in a question or problem related to your post and go in to offer some advice and link off to and promote your post.
This not only spreads the word about your post but also spreads your reputation as an expert in your field. It's called networking ;)
Email Influencers & Other Bloggers
I won't lie, a lot of bloggers and people you email are busy and get this kind of thing all the time, they may just ignore you. But not always…
If you have a good reason for these people to share, then they may go for it. Some of the reasons why a popular blogger, one who is far more established than you, may share your work are:
You mentioned or quoted them in your post
It helps them to sell their products or grow their email list (also a mention)
It solves a problem they or their audience has been having
It's such a bloody good post it blows them away and they share it out in pure awe (no really lol)
I recommend finding other bloggers who are at about your level of slightly higher though. If you started blogging yesterday, don't expect to get a tweet sent out by Neil Patel.
You can even create a full outreach post if you really want to leverage this technique and further improve your blog promotion.
Add your Post to Reddit
Proceed with caution, Redditors are protective and will eat you alive if you pop up randomly and spam your post.
However, if you use Reddit, contribute and gain some respect on the platform, some subreddits may enjoy you sharing your post. If not there's Self Promotion, a subreddit dedicated to you sharing something you've created.
The best case scenario here is if someone else shares your post on Reddit – it's a powerful form of blog promotion :)
Promote with Pinterest
If you have interesting imagery within your post, pinning the images on Pinterest is a solid way to reach more people and catch more eyes.
I've personally created collections based on my niche and occasionally I surf Pinterest looking for new images so there's a healthy mix of my stuff and other people's pins. Like a lot of things though, give it a try and see what results you get, it may or may not work for you.
You can take this a step further by finding and applying to contribute to group boards and promote your blog post's images / pins to larger followings. It's quite poweful.
LinkedIn
If you've got a solid following on LinkedIn and your niche is business oriented then share your post on LinkedIn (but don't share your anime toy collecting website here).
If you have a solid post on a business related topic, LinkedIn can be a good place to cut through the noise as people are expecting this kind of thing to come through. So don't neglect this powerful social network and promote your blog posts here.
While we're here…
LinkedIn Groups
Sign up for LinkedIn Groups and post there.
A lot like GooglePlus and Facebook, LinkedIn has groups you can join and share to – expect people in the groups will receive emails whenever you post there, so it has a little extra reach.
This can be powerful if used correctly, as usual, I recommend getting a feel for the group cultures a bit and not spamming them all of your links.
Like this post so far? Why not share it on Facebook or Twitter?
Instagram
I know, you can't share links on Instagram!
You can, however, place a link in your bio. Then all you have to do is post an image to the tune of "more information on our blog, link in my bio" and boom, you're in. You can also do paid ads and link from there too. You've got options :)
Send a Push Notification
You can get visitors to sign up to receive browser and push notifications when you update and promote your blog posts automatically to people right within their browser or device.
One plugin you can use for Free is made by Push Assist on the WordPress repository.
This is a perfect way to take advantage of technology and reach more people.
Promote your post on Mix (formerly StumbleUpon)
Some people were skeptical of StumbleUpon, but it's proven to be valuable to my blog's growth – well now they're called mix!
If you have your email list ready to convert people, these semi-random visits can lead directly to growth. You can also get some nice indirect growth via SEO, as I've noticed many of the posts I create that do well on this platform usually see increased search engine traffic. There's also the flow-on effect of people sharing your post elsewhere too.
It takes 10 seconds to promote your blog article shere, and can be an awesome tool, don't overlook Mix.
Submit a link to Digg
Digg is another Social Bookmarking website you can promote your blog post on.
Like a lot of other networks, it covers a wide range of topics so you should be able to share just about anything here. It's a pretty popular platform so if done right this could be a good promotion for your blog.
Delicious
Or should I say Del.ico.us?
Much like Digg, Delicious is another social bookmarking site covering a wide range of topics but you can also organize and categorize posts. Another place to possibly break through to new people.
Quuu Promote
Ever heard of Quuu Promote?
Quuu Promote is a platform where users can submit their content and it is hand reviewed and suggested to other people on the network who follow similar interests.
It's an interesting platform so check it out: https://www.quuupromote.co/
Find Niche Bookmarking Sites
So above I've mentioned a few general social bookmarking sites that anyone can use, but there are also niche specific sites out there that may suit your blog or latest blog post.
A do a google search and see what exists out there for your niche and consider signing up and sharing there!
Run Paid Ads and Promote your post that way.
Have you promoted your post on Facebook? Boost it!
Any kind of ad you can run that may give you the traffic you can convert into subscribers or customers could be a worthy investment. Crunch the numbers and try things like Google Adwords, Facebook Ads, StumbleUpon ads, etc or any platform you come across.
Pad blog promotion can be a way to ensure you get some traffic to your website.
Buffer it
Do you use the Buffer App? I highly recommend promoting your blog with it.
It's a nifty platform you can use to schedule future posts to various social media networks (more on it here). Throw the post into your Buffer stream and share it again at a later date.
This is perfect for those who didn't see it the first time around!
Create a Video
Take your blog content, format it into a video, upload it onto YouTube & link it up in the description!
This acts a promotion, a backlink and you can build up your presence on YouTube at the same time. Also, you can embed the video into your post so people can choose to read or watch – that's real multimedia for you!
This one is highly underrated.
Like this post so far? Why not share it on Facebook or Twitter?
Create a Podcast
Much like the previous tip, you can read your blog post into a short podcast and promote a link to it in Show notes.
Again, you can build your podcast, promote your content and even embed the recording into your post so people can listen. This strategy will help you spread across multiple mediums.
Snip.ly
Promote someone else's blog post…
..and link to yours!
Snip.ly works by allowing you to share a link and add your own message and link over the top as suggested reading. This is another out of box technique that can make a big difference to your promotion.
Promote on Triberr
Triberr is another cool platform where you connect with other bloggers to cross promote each others content.
Find your tribe, share their stuff and they'll share yours. You can grow both your blog and your network at the same time. It's a powerful promotional tool.
A lot of people swear by this tool for their traffic so don't overlook it!
Link up Older Blog Posts
If you have existing traffic going to other posts, a simple link could drive you some more people! This isn't just to promote your blog post but also adds to your onsite SEO.
On top of that, linking up your newer posts in a relevant fashion from older posts is good for Search Engine Optimization and site structure.
You've already got other pages receiving traffic, so promote on them!
Add Tweetable Quotes to promote indirectly
People love a though provoking quote. Take advantage by adding a "click to tweet' on that quote that includes a link back to your post!
Craft a Tweet on Share Link Generator (I have a video on that here), pop it under your quote as a call to action ('tweet this' or something similar).
This is a great way to give people quick tweetable content they can share whilst also promoting your blog and your Twitter profile if you include your username in the tweet.
That way people can more easily promote your blog post for you!
Comment on other relevant Blog Posts
I know this sounds pretty outdated and not the best way to promote your blog post, but if you leave a really helpful comment on a popular post, you can often add a link with your name and email.
If your post expands on another post, comment in a helpful manner and people will click and explore. Some people may say it's also good for link building but I wouldn't give it too much credit. Treat it as networking.
Slideshare
Convert your post into a Slideshare slide, promote your post with a link back to it!
Slideshare is a lot like PowerPoint, you can create slides with bits and piece of information that pop up as the user views it. This is another strategy many people claim to be effective so try it out for yourself.
Tell Your SnapChat Followers
Got a following on SnapChat? Snap them!
Tell your followers about the problem and tease your solution, telling them to check out your website for more in your latest blog post.
Snapchat is pretty popular these days so don't underestimate this social media network, it can help you get some good traffic to your website.
Promote your post in your Email Signature
Do you correspond by email a lot? You should have an email signature.
Take advantage of this by updating your email signature with something along the lines of "Latest post: how to lose 10 pounds in 8 weeks" as an example as a method to promote your blog post.
If you're already conversing via email with people then there's no reason for them not to check it out if they're interested.
Ask people to share the post – from within the post!
Remember Share Link Generator?
Well, you can simply put a link on your post saying "do you like this post so far, please consider sharing it!" with the text as a link. Budda Bing budda boom! (Again, video here) – the reader promotes your blog post!
Speaking of which, has this post been handy so far?
Consider sharing it on Facebook! That'd make my day :)
Like this post so far? Why not share it on Facebook or Twitter?
Add to your Email list DripFeed
You've emailed your subscribers, cool. Now add the link to your Dripfeed for future subscribers!
If you have an automatic drip feed hooked up to your email where people get a predetermined series of emails after sign up, then there may be a perfect place there for your blog post.
Add your post onto your drip feed and promote it on autopilot for years to come!
Contact new people directly.
Send a Facebook Message, email, text, phone call, whatever!
If you have friends who support you, people in your industry or niche or even have a private circle of people you share with, then contact them asking to share your post.
I do this one a lot and it works well!
Create some Eye-Catching imagery and share it
I've extracted quotes, interesting images and all sorts from blogposts and posted them on Facebook and Twitter for their own merits. Add a link to your blog post and you've got another promotional method.
Since people engage more with videos or imagery than this one has the potential to reach more than a simple shared link.
Install SumoMe so people can share easily
SumoMe sharebar creates a bar of buttons that link to Facebook, Twitter, etc that visitors can click and share/promote for you.
Not only does it act as an easy way for people to share your post, but if you have a lot of shares and likes it acts as social proof too.
Sumo Me have a range of tools you can use to get more traffic and grow your email list, so check it out by searching for Sumo Me in the WordPress plugin repository.
Tease the upcoming post
Before you release your next post, tell people it's coming and what it's about.
If people really want to hear your take on the post you tease, it'll build some buzz so when you share it, they'll be a bit more excited and more likely to visit, link and share.
This is a good strategy when you're creating a blog post that has been frequently requested.
Facebook Instant Articles
Ever heard of Facebook Instant Articles?
It's basically a service which links up to your website and stores articles in the Facebook app. So people on Mobile and Tablets can click through to the article and it displays instantly in the Facebook app, no switching to Chrome or Safari, it just loads instantly.
This is a good way to give your posts a little more presence on Social Media and you can even earn money with ads on Instant Articles. So check it out!
Pay to Post
If you know of a relevant Facebook page which is quite large and gets a lot of interaction, consider messaging that page, offering to pay a fee for them to share your link.
This is a technique you can use to reach more people in similar networks and aggressively grow your reach. This can be done on virtually any social media network.
Hell, you could ask them to do it for free, they may accept.
Answer some Questions
There are a number of websites out there where people ask questions for the community to answer.
Search for questions on forums and groups that your post can answer and, in some cases, link to your blog post from. Even if you can't add a link, mention your website and simply type in the domain name so people can look you up. You'll help people, build your name and promote your site all at once.
Some of the most popular Q&A websites out there are:
You can also search for Forums in your niche also, where people often ask their community questions. Simply search google for (your niche) + "forum". Form there you can usually search form within the forum.
Co-Promote
Start up a network of bloggers and create a group to share that shares each other's posts.
Be picky and choose only quality bloggers (so you don't get stuck sharing low-quality blog posts), and then send an email out to your group asking to promote. This is a powerful strategy if done well with good people.
Cross Promote your blog post
If you have another website or audience in a similar niche than you have another set of eyes you can leverage.
I once wrote an article on a fitness website "The top physiques in martial arts" and shared it both on the fitness Facebook page as well as my 'Martial Arts Action Movies' Facebook page. The Martial Arts page had an audience of thousands and it sent a lot of traffic to the fitness website.
So leverage your other properties appropriately, you can even write a post targeted at another page that works for both niches.
Like this post so far? Why not share it on Facebook or Twitter?
Bloglovin'
Bloglovin' is a network where bloggers can follow each other and promote their blogs.
While it's rooted heavily in Fashion and Lifestyle, this covers a wide range of topics and can be a powerful tool if you grow your presence on Bloglovin'. Check out their website here.
Blog Engage
Blog Engage is another community built for people to share their blogs and blog posts.
This is another tool that can be useful for interacting with other bloggers, build your network and then leveraging it directly by keeping people there up to date by posting your blog posts there regularly.
AllTop
This content aggregator won't take up much of your time.
Sign up and submit your RSS Feed and if you make the Alltop listing than your website will automatically display your latest posts. This tool is attractive because it only takes one submission to get started. You don't have to submit every single post, it's all automated!
Tumblr
Tumblr is a blogging platform that is linked up just like a social network.
It's easy, sign up for a Tumblr account, follow some people (many will follow back) and then share your links on your blog with a few tags attached. Tumblr is another popular network which is perfect for building your network and of course, sharing your blog posts!
Blog Post Roundups
Many blogs and website run Blog Post Roundups or have blog posts dedicated to a certain topic, linking out to other bloggers posts.
You can contact these websites and submit your post for consideration. If the quality of your post is high, most people are more than happy to include them in a roundup. Google is your friend here as it may take some searching to come up with what you're after.
Flipboard
Flipboard is another bookmarking style site you can sign up for and promote your blog posts on.
Flipboard is another site which covers many topics and niches so just about anyone has the opportunity to share the blog posts here and grow their traffic. This could be another promotional tool to grow your following with.
Make use of "Latest Posts" Widgets
People may land on your website and leave because they don't see anything that interests them. So promote your latest Blog Post!
If you don't have a blog page as your home page, throw a 'latest posts' widget there, same for the sidebar and maybe even the footer of your website. Anywhere where people might see your latest posts and shift their attention is a potential reader of your most recent work.
This is a common feature of your standard WordPress Widgets.
Share again at a later date!
Remember, once you've written this post, shared it and moved doesn't mean it's dead and gone.
If you're proud of this post or it gets a good response, keep it up your sleeve and share it again in a week, a few months, later in the year, in 2 years or anytime when it's still relevant. It's been made so why not make use of it over and over again.
Automate and Link these avenues of blog promotion
Save time by linking some of these platforms up.
You can easily link Facebook to Twitter right here. Most people know that, but there's another tool called "If this, then that", or IFTTT for short. It allows you to login and link up a massive number of apps with rules, many being based on your RSS feed when you share a new post, or to share from a platform like Instagram to Pinterest or Tumblr.
There's way too much for me to mention here but is a powerful tool and a MASSIVE time saver if you're looking to make your blog post promotion more efficient.
Check it out at IFTTT.com, spend some time and write some 'recipes'.
Finally, Create a "Promotion Cheat Sheet", here's how:
OK, so you have a few places in mind already from above, but can you remember them all? Have you done any further research? Well, let's not get too far ahead of ourselves.
In my time I've created and run several websites. Some went nowhere, some have received mammoth traffic in their time. If there's one thing that I swore by, at least in the earlier days of blogging it was having a promotional cheat sheet I could refer to each time I published a post.
That way every time I published a post I'd open up the sheet and promote it on every website or platform listed. It's not rocket science, it called being organized. SO!
First, Create a Spreadsheet.
Do you have Microsoft Excel? Open Office Calculator? Maybe even a Google Sheet?
Whichever weapon of choice you use, let's get started by creating a spreadsheet…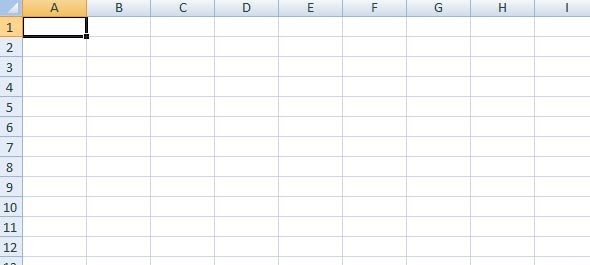 Excellent. You're doing well so far.
Now add the following across the top:
Website / Platform
URL
Username
Password
Maybe make the text bold and widen the columns to accommodate. It should look something like this:
Add the sites & their information:
Now, just go through and fill out the form with any platforms you may have, with the corresponding information.
It's pretty basic & straightforward :)
Now, research & add everything in. Then promote, promote, promote!
Spend some time searching, researching and looking for places to promote your latest blog post. Make sure you include any of the items already in this blog post (that's kinda the point of this whole thing), record these places down, sign up for their services and put everything right here.
The idea is to spend some time upfront gathering up information for the future.
So the next time you post, use the list you just created!
Like I said, it's not rocket science.
Next time you go to publish a post you will know exactly where to promote it and begin the influx of traffic. Just make sure your website is ready to receive and convert the traffic it receives into customers or Email subscribers.
Over time you can refine this list by going into your analytics and seeing where your traffic is coming from. For the sake of efficiency I highly recommending adding and removing over time so you don't waste hours promoting your stuff somewhere just to receive 1 or 2 visitors.
Thanks for reading this post and I hope it helps you out.
If you want more information just like this, consider subscribing to our Email Newsletter below!
Did you like this post? Why not share it on Facebook or Twitter?
Related Blog Posts for boosting Website Traffic: