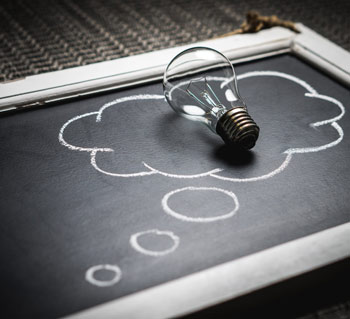 Everyone is on Social Media these days.
They're there so that they can spread the word about their brand, website or even just to showcase their cutting-edge selfies and impose their duck-faces on to the public at large.
This is the way of the world today. It's a platform that gets people talking, exchanging, showing off and generally getting attention.
With all this noise how can you compete and make your profile stand out? You want to share links and information people will see and act upon, but how can you compete with duck-faces and selfies??
The answer is to be interesting. Be social – it is social media after all!
So before you rush out and spend $20 on a selfie stick and spend hours practicing your latest duck face or digging up cat videos, I thought I'd give you a few ideas you could use that would separate you from this idiocy already flooding the social airwaves that will help you stand out and catch people's attention and get them familiar with your profile – ready to receive your promotions and links to your posts.
This list is long and is supposed to act as a bit of a resource. Bookmark this post and refer back to it at a later date when you are trying to think of social media ideas!
Let's get to it!
So this list is a series of ideas you can use to keep things flowing. The more you post interesting stuff, the more likes and comments you'll get overtime and eventually the more interaction each post you create will attract.
I've done my best to split these up into sections for easy reference, although I recommend scrolling through and checking everything out!
So give these a try!
Get visual, post images!
Images are the easiest and one of the best performing mediums out there. If you're looking to create engagement, these social media ideas will do wonders!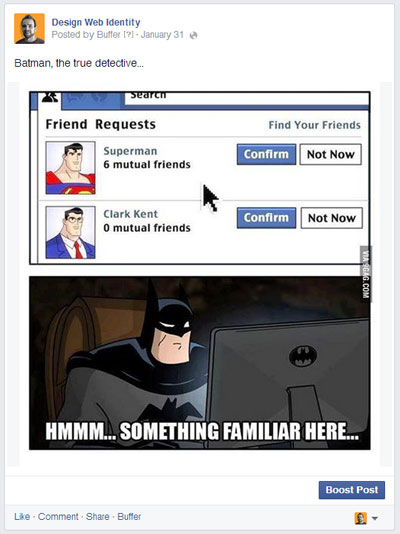 Post something funny! This can be a simple meme, a line of text, a comic strip or anything you find online that gives you a chuckle. You can often find such images in Google search by typing in some keywords + 'meme', 'comic' or 'funny'. Or if you have the talent, create the image yourself!
Share Motivational Images. People love to be inspired and motivated. This is huge in the fitness industry as images of stunning physical feats or a ripped physique often get pretty popular. But this can be applied to any field, you've just got to find an image that represents success in that field.
Intriguing or interesting images. Not long ago I created a post about Bruce Lee with some photos of him as a child, working with certain celebrities and even a rare photo of a man he once fought. These images were pretty popular in places like Pinterest and Facebook as they showed things people hadn't seen before – so people shared the photos. Find photos that make you look twice or get you thinking. As usual, try to make it relevant to your niche.
Post infographics. People love 'em! You can search for infographics by putting a keyword and 'infographic' in the image search for Google or Pinterest. There are also entire websites dedicated to infographics like Daily Infographic. You shouldn't have trouble finding something to share – or once again, you can try creating one yourself!
Behind the scenes photos can also be shared! If you want your fans to feel involved and get a sense of how 'real' you and your product are – put in some behind the scenes photos of you working or creating. People love to see that stuff! This can also include computer screenshots – just hit PrtScn on your keyboard and paste into your photo program (eg Photoshop).
Preview of an upcoming product – yours or even someone else's! Remember it's not about you, it's about what your audience wants. If you have or find a product that may be useful for your fans, show it off! Some may thank you.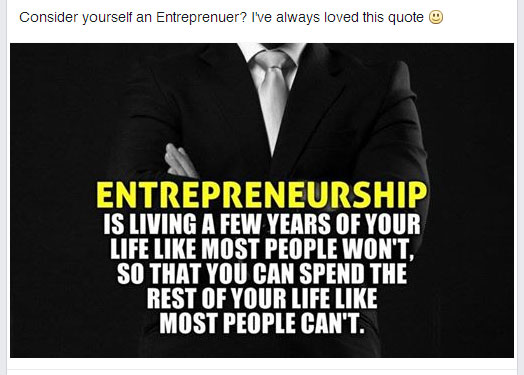 Share Quotes. That's it, find a quote and put it into an image with a photo of the person who said it. They are insanely popular and simply having a famous face will draw people's attention. You can also do this with quotes from your blog posts and pop a link to the post after the quote.
Photos of or about you! Sometimes you can get away with that selfie – just avoid that duck face! You could be working on a project, training for a triathlon or doing absolutely anything (something fun from tip one?). Also, you can put your toy collection or new car on there (if you run a toy collecting or automotive website that is). If your audience is familiar with you, they'll be interested in seeing what you're up to!
Share some art. You can find killer art out there that represents themes in your niche, or even celebrities. People love a bit of art and you can find plenty at DeviantArt – where you'll also have access to who created the art, so you can give them credit for their work while you're posting it.
Post graphs or statistics. People that are analytical love numbers as it paints a picture and helps them make more informed decisions about what they're doing. So if you have a useful or interesting statistic or graph, share it!
Before & After photos are another useful way to show the power of a product. It can be a weight loss photo from a diet or ebook, traffic stats from a promotion or your car after using some space age polish. If the results are outstanding, post them to people craving those results for themselves! Then send them to where they can get more info :)
You and/or your fans. If someone recognizes you and gets a photo because they love your page – put it up online and mention them (with their permission). You can also post a photo a fan sends you (once again, with permission) if they are using your product or engaging in something relevant to the niche you're in.
Awards or Accolades. Why not celebrate and let people see your credentials! A lot of your fans will congratulate you :)
Stuff from 'the old days'. Got a screenshot of your old website design, a prototype of an old product or anything that's since changed and grown far beyond its state in an old photo. Share the old photo and have a little 'look how far we've come' conversation with your fans.
Caption This Photo. Find a relevant photo, ask your audience to create a caption! People love sharing their ideas and being funny in public.
Share Some Links
Social Media is meant for being social, but you've got to promote some articles or your website so often to really offer a tonne of value. Here are a few ideas.
Obviously, share your latest Blog Post. You want people to see it right? Post it out there for your audience to see! That way you can grow your blog and indirectly make more sales of your own products or affiliate products.
Share your old Blog Posts. Old Posts don't have to die, go back, re-share and revive them. You can also more frequently share popular posts people love, and occasionally share 'call to action' pages designed to convert people on an offer – email subscription, sale, whatever it's set up for.
Share posts other than yours! If you have heroes in your niche with interesting stuff, share their stuff too and pass the value forward. This is also a good way to start building relationships with the bloggers whose content you're sharing. This goes for anything interesting, controversial, entertaining or even breaking news.
Share a Quote from a Blog Post with a link to that post! (Mentioned earlier with images, but can also be done without an image)
Share your other Social Media Profiles. Why not get more of your Facebook fans following you on Twitter, or Twitter fans on Facebook? Maybe mention your email newsletter and send them that way? It's a great way to build a more stable following if your fans follow you across multiple platforms!
Entertain and inform with videos!
Videos are fast becoming the best performing content on social media. If you're focused on using Facebook, then video is king. You can share YouTube videos but a direct Facebook video will get far more engagement and reach by Facebook.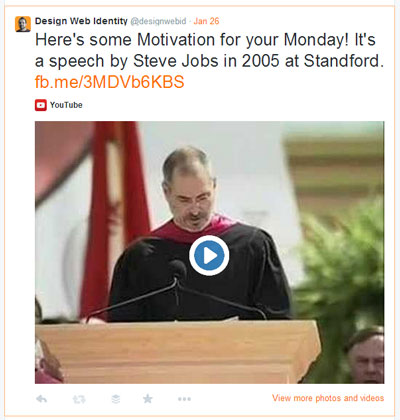 Get Motivational by sharing one of the thousands of Motivational videos out there on YouTube. You can also find motivational stories to share as well as speeches and speech compilations. I personally try to share a motivational video every Monday to start off the week!
A Funny Video related to your niche. You can find such videos on YouTube by searching for a keyword and adding 'parody', 'funny video' or something similar. This can be used as an excuse to surf YouTube ;)
Interesting or intriguing videos. Much like images earlier, anything that has you thinking or really grabs your attention with intellectual content, relatable to your audience is a perfect share.
How To's / Instructional Videos. Make your own or find someone else's – either way an instructional video can be a big help for people in your industry looking for some guidance in achieving their goals. So share!
Old clips (if applicable). Discussing Bodybuilding? Find videos of Arnold Schwarzenegger in his Prime. Talking about movies or TV shows, share classic clips. Same goes for sport or any media heavy niche that has a strong history of video.
Your Podcast Episodes (if you have a podcast). Simply create a static graphic, or if you have a video of your recording the podcast, upload it to YouTube with the audio and then share it! Try to drive people to subscribe to your podcast though by mentioning it on screen (both with text and verbally).
Ask a Question…?

Ask for advice on something. "Does anyone out there know how to link Facebook to Twitter?". Be human and ask for help. If you have fans many would oblige because they simply like being helpful! Don't overdo it though, make it about your niche primarily and throw these statuses in occasionally.
Get an opinion from your fans. Ask your fans if they like what you offer or the info on your website. You can also get their opinion on other peoples work and products. Asking for an opinion on your own product can be a good way to get testimonials – if you get permission from the person.
Ask if your audience can relate to something. Think about things you love, or little things that annoy you and ask your fans about, such as "Is anyone else out there sick of selfies and duckfaces?" could be an example where people will jump on the train to destroy any credibility that duck-faces once had. (Sorry I got a thing about duck faces!)
Ask for prediction. "Who's gonna win the big game?", "Where do you think this industry is heading?" Think of questions that people would love to share their predictions or theories on!
True or False? This is a fun little post you can put up in relation to certain topics in your niche – it's a good way to make use of trivia and see who knows their stuff!
"What would you like to see more of?" You want to deliver value to your fans, so ask them what they want! If any of them are looking for anything in particular, they'll speak up!
Challenge people
"Today your challenge is…" Challenge people to better themselves, get them to do something today!
Challenge people to do something every day for a set amount of time. "Do 1 push up today. Do 2 pushups tomorrow. Then 3, 4 until you're up to 100 push ups a day!" These kinds of challenges can get people together and be supporting each other on your social media network!
Set a goal to aim for. Challenge your followers to aim for something and report back on their progress. Anything – get 1000 visitors a day to your website, add 50% to your bench press or knit your first sweater. Think about something relevant!
Celebrate!
Celebrate a Holiday. Happy Valentines Day! Merry Christmas. You get the idea.
Happy Birthday. Is it your birthday? The birthday of a celebrity in your niche? Announce it and put a picture of the person along with it!
Share a Victory! You hit a hole in one, your favorite famous sporting team won the championships – if it fits in with your main niche then go for gold!
Make things interactive!
Fill in the blanks "This week I achieved _______" is a post type many people use on Social Media these days and they get a pretty good response. Once again, people get a chance to talk about themselves and share what they're up to. (This is similar to 'caption this photo' only without a photo).
Run a Tournament. This is a series of posts where you can find 16 items for comparison. I'm planning one of these right now for my martial arts website. List 16 martial artists (or anyone, depending on your niche) and announce them all – then once every few days do up and image saying "person 1 vs person 2 – who would win?" then let the fans announce who they think would win. You do this with everyone, getting to a quarter and semi-final matchup and eventually the winner! It's a fun game that keeps people engaged :)
Start a Photo Contest. Get users to share photos online of a certain kind (maybe submit your funniest, photoshopped pic of Justin Bieber?) a pic a winner (or a few). This again helps enhance the community feeling on your social media :)
Run a Poll. You can insert an actual poll, but I recommend just asking, counting and announcing the final tally – most of the time you get more interaction. This can things like – "what's the best technique to (whatever), who is your favorite character or actor", "how many (whatever) is too many?", "Out of these 2 things, which is better?" etc, etc. This is an excellent way to better understand the bulk of your audience.
Make a Statement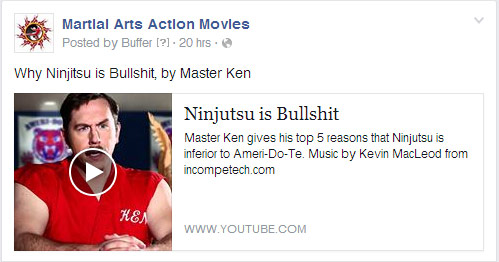 Offer your opinion on something. It may be useful, quite agreeable or even better – controversial. "I think 4 year-olds should legally be allowed to drive" (well, maybe a bit less comical). This can be useful for commenting on news and events in your niche.
Tell a Joke. Got a terrible pun? Because German sausage is the wurst! (Oh yeah, I'm that funny). Maybe another joke? Make the people laugh – either at the joke or at how bad you looking telling it to the world! It's all good fun :)
Tell a short story! I don't mean fairy tales but maybe interesting things that happened to you or people in your niche.
"Don't be this guy" or "Don't do this posts" You know those people we all can't stand – at the gym it's guys who stand around talking, people who cut in line etc. Share your frustration and like-minded people will relate!
Share Handy Resources & Offers
Offer a freebie, then send people to your website to download it. This could be an email opt-in gift, or just something people can go to and download. I think you'll find people appreciate free things ;)
Promote someone else's freebie – help people out :) If you find something that is really useful then share it! You'll help out your audience and the person giving away the freebie. All the while you may end up starting or building a relationship with the person offering the product.
Share a webinar or Google hangout, any kind of 'group' event you can participate in – people want to get together and exchange information.
Promote other people – Share another Facebook Page or Twitter personality. Think of who really helps you in your niche and promote them! Try #FollowFriday on Twitter! You know, you could always share my profile on Facebook or Twitter ;)
Share apps. People love apps, so share the ones you think are worth using.
Run a Competition – Give something away that people want via competition. This could be a simple post like competition or even a link to an email list sign up competition. Increase your following and reward those who act!
Share Discount Offers or Coupon codes. Pass the savings on. You may be able to combine this with an affiliate link too!
Educate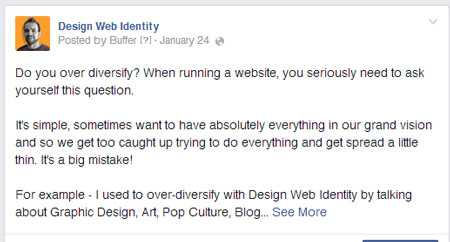 Share quick, actionable tips. Just type up a quick post with a dead simple tip to help people with what they're doing. As usual, make it relevant.
Share Expanded tips and lists. If you're on Facebook, sometimes a lengthy, informative post can go a long way – and people really like them!
Post Stats and Facts. Numbers and facts are useful, so share some useful stats and facts.
Share a Case Study. "How I managed to lose 20kg, this is what I did and this is what happened."
Share some inside info
Talk about your next blog post. This can be a way to build up hype and gives your website a sense of life as people know you're working on it!
Share a Product or Freebie you plan to launch. Similar to above, it builds hype but also makes people feel included like you're really doing it for them.
A day in the life of… you? If people are following you because you have a somewhat unique life – let them know what a typical day in your shoes is like!
Got a few more ideas now? Here are some tips.
Make sure you participate in Social Media so you better understand what you like to see and the kinds of things that get posted. You need to understand a platform to really make good use of it.
Follow influencers in your niche, pay attention to what they do and take note. You may get some fresh ideas from seeing how they do things and you'll also stay up to date with them.
If you have a tonne of ideas, create a list or spreadsheet. Don't let those golden nuggets of social media escape you! List them, refer back to them and always expand upon them.
Automate. I highly recommend the BufferApp. Combine it with the list above and you'll have social gold pumping out on autopilot! Just log in every day at least once and respond to people as they respond to you!
At the end of the day, you'll slowly learn what your audience likes to see and hear about just by paying attention to their interactions – the key is getting them to interact in the early days. So keep trying some of these ideas, keep the flow consistent and you'll make it happen!
Thanks for reading, if you found this useful please share it around and don't forget to keep the conversation going – leave a comment!
Related Blog Posts for boosting Website Traffic: