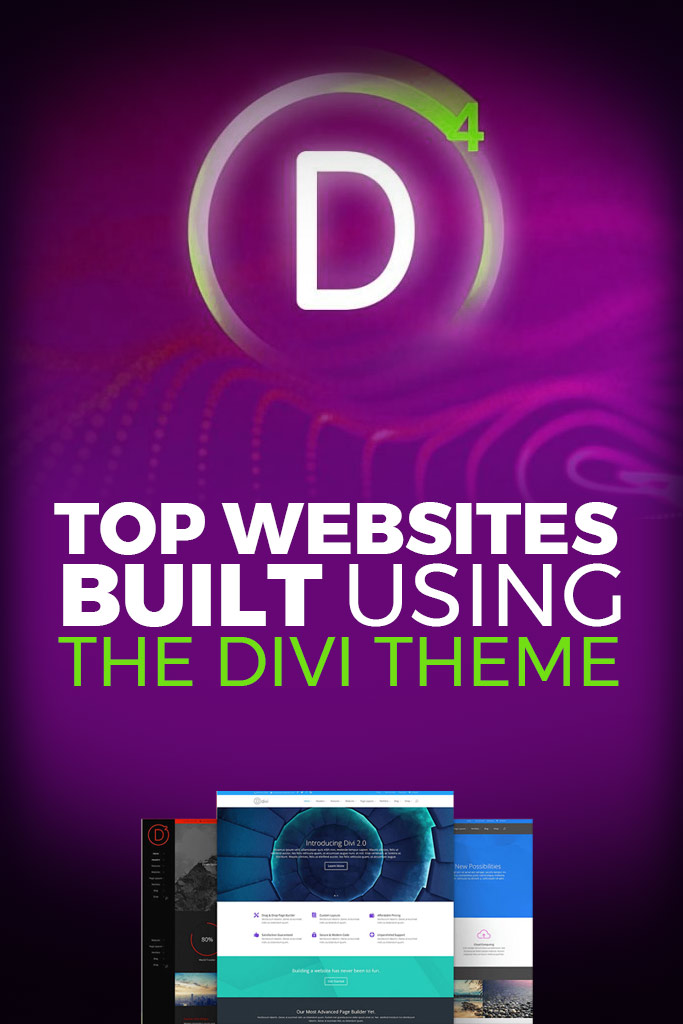 If you've ever heard of the Elegant Themes or the Divi Theme, chances are you have at some point wondered what you can create with it.
With it's intuitive Drag'N'Drop Builder and Theme Builder, you can create almost anything for your website using Divi (check out this post to see how it works.)
It's been a huge part of my web design business :)
As far as WordPress themes go, nothing really compares with the Divi Theme these days as it seems to be a complete package enabling you to customize your website.
But what websites out there were actually built with Divi?
Please note: the following links contain affiliate links I earn a commission from upon purchase. These links do not affect your purchase price and I would recommend these products either way!
Well, here's a few examples!
But below I did some research to create a long and comprehensive list of Divi built websites, so you can see exactly what's possible using this theme.
However, some of these websites do have added functionality not covered with the Divi Builder. But the layout and look of each site is built using the Divi theme.
If you haven't tried out Divi I highly recommend you head over to the official Elegant Themes website as you can trial the Divi builder there.
Websites I've built using the Divi Theme
So below ware website's personally created.
I am a web designer and I have used Divi to create roughly 100 websites. The best part is I rarely use any code to get the look and finish I'm after. So I wanted to show you first hand what's possible.
Bots Vs Cons
This is a small niche / fan site I run that revolves around Transformers. The overall look is designed to stand out and look out of this world.
Although there also ads sprinkled throughout to create a income stream, the overall website looks sharp (in my opinion).
Martial Arts Designer
https://martialartsdesigner.com.au
This is another website I own, selling my services to Martial Arts clubs. I built this website a few years ago when Divi was young and had more limitations.
High Point Music
https://www.highpointmusic.com.au
This one isn't my website, but a friend's. Ryan Wyatt is a professional guitar teacher who teaches lessons on line via YouTube and over Skype. This website has evolved into pretty comprehensive resource and has a clean and professional design to back it.
Wade McMaster Web Design
This is my main website for selling my web design services. Built using Divi and it sells well!
Creator Impact
This website used to be called We'll Build Your Blog, but now it's Creator Impact. You're on the site right now ;) Take a look around, do you like it? It too was built on Divi!
Sites from around the Web
The following websites are from around the web and are excellent examples of websites built using the Divi Theme.
Fern Colab
This website is quite visual and uses some really basic principles to stand out. It uses Divi in a few creative ways but comes across looking sharp and outstanding.
White Gorilla
Want to see well executed use of Divi's aninmations? Check out White Gorilla!
Funk Engine Music
http://www.funkenginemusic.com/
Another website that makes good use of animations and Divi's parallax feature all in a stylized retro design.
Cardinal Pro Painters
https://www.cardinalpropainters.com/
Conversion Lab
Chasing Mumford
https://www.chasingmumford.com/
Artfully Designed
https://www.artfullydesignedcreations.com/
Casey Labatt Simon
How to Beast
I love the simple interface – 'Get Jacked' or 'Get Confident'. Backed with a cool greyscale look and design, this is a really cool example of what's possible using Divi.
On the Agenda
Ane Riel
In Joy
Helke Wieners
Doers
A simple use of blue and some of the standard Divi features gets you a striking design just like this one! The animated text is a nice addition too.
Woody Fuel
Andrew Kingslow
Mauri
CRI Green Door Project
https://blockheadchallenge.com/
CRI Green Door Project is another examples of a basic color scheme, clean design and use of basic Divi features to get a truly professional design.
Parris MFG
The Phoenix Building
https://thephoenixbuilding.com/
Vin Walker
Colorstone
Motion University
The dark/black design with the touch of orange really makes this website stand out. They've made excellent use of the Divi Builder with this website, combined with a strong color scheme.
Carole Ann Rice
https://www.realcoachingco.com/
Simplee Online
Reason Group
Green Peas for Breakfast
https://www.greenpeasforbreakfast.com/
Twist Travel Magazine
Steph Williamson
Above and Beyond
Tokenika
Summit Property Management
What do you think?
It seems like you achieve a lot with Divi. You can see the comprehensive layouts that have been created, but nothing beat testing it yourself.
On the Divi site you can test run the builder, so if you're tossing up, I highly recommend giving it a go.
Thanks for dropping by, have an awesome day!
Related Posts for WordPress Design and Themes