Blogging, creating content, art, marketing, they're all vast skill sets that take a LOT of work to master, so you need some decent tools to become more efficient.
Specifically, WordPress bloggers need to know a lot of different tools to get their website to a manageable level.
On top of that creating the content for that site and spreading the word is the next skill most bloggers need to master.
The industry of blogging and content creation requires many technical and psychological skill sets.
Just like any expert, you need to make sure you understand what the top tools are as they will help you save a tonne of time, so I created this nifty list for you to use as a reference.
You need to master these top tools, sure, but it's important to make sure they're easy enough to use so you can get better, faster.
So let's get into it.
Please Note: By playing any videos on this page, you hereby consent to the use of YouTube's Cookies.
Subscribe to my YouTube Channel Here
Please note: the following links contain affiliate links I earn a commission from upon purchase. These links do not affect your purchase price and I would recommend these products either way!
Top WordPress Tools
The following tools are highly recommended for anyone running a blog or WordPress website.
There are various tools that work for different levels of experience, so I've done my best to break everything down.
Decent hosting
If you want a website, it's extremely important to get some info ahead of time here, so you don't have to migrate and put up with crazy problems that have you glued to your online support chat.
I've built well over 100 websites in my career. I have a little experience here.
I started with one provider for my hosting that had massive issues with performance and email. I've tested various other hosts that I just don't want to throw under the bus. It's not my style.
So I have some recommendations:
First, for beginners I'd use Hostgator. I've put about 50 clients on the Hostgator Cloud Hosting (including my sites). It's a perfect place to start and here's why:
It's cheap and the value per dollar is amazing.
You get a Free SSL certificate
Support is generally quick and the actually solve any minor issues you may experience (not that I've had to use them a tonne)
I rarely have any problems. They remain extremely reliable and stable
Performance is good, I get good site speed and things seem to just work.
Installing WordPress is dead easy, here's a tutorial I made to show you how.
Overall, it's in a cheaper starting place but works extremely well. Excellent value for money.
You can get similar results with Bluehost (more info om starting a website here). But I've had more issues with them over less websites than I have with Hostgator.
If your website traffic is outgrowing Hostgator, migrate to WP Engine. They are a little pricier but the performance and features you get are incredible!
They will migrate the website for you
Increased security, automatic backups
Managed WordPress solution
Free SSL
Free Themes including Genesis Framework
Far better performance
CDN (Content Delivery Network) for faster download times
Yeah, it's pricier but you can save a tonne of time, get better performance and things are a lot more 'hands-off'.
Photo Editing Software
There's only so long you can get away with just uploading straight photos and images without cropping, resizing or editing to create a good website. So you need to get your hands on some photo editing software.
You can limp by using Canva in the beginning. It's free and quite powerful for very basic editing (adding text, cropping, etc).
Don't get me wrong, I think Canva is absolutely amazing. I love that tool so much. But if you want to do the more advanced edits (cutting out people and objects, editing color, getting to the specifics of your brand's imagery) you will eventually need to move to, you'll need a better Photo Editing solution.
Don't waste time, get your hands on Adobe Photoshop.
It will be a learning curve if you're not used to it, but once you get the basics down you'll be able to do so much more than you can with a free tool.
I will be releasing Photoshop tutorial soon so you can get started, so please consider subscribing to get your hands on those.
Grammarly
Most of us have terrible Grammar and Spelling – me especially. So this free tool can be an awesome addition to a bloggers arsenal!
You sign up, install the browser extension and then as you type it checks your spelling and Grammar but on a level way beyond the stand spell and grammar check.
It really nails the mistakes you make more effective and offers a simple click and fix solution. It's free, so you have no excuse for poor grammar in your blog posts.
Google Analytics
Again, another completely free tool for your website!
Google Analytics is a simple tool you can install on your blog or website and then you simply log in and you can check out all of your traffic as it comes in, where they go to next, where the traffic came from and an endless list of other useful metrics.
It's easy to use and gives you an idea of what's working, so you can double down and improve, sending more people to your website using those avenues.
I have a guide to Google Analytics here if you'd like to investigate or get started.
An SEO Plugin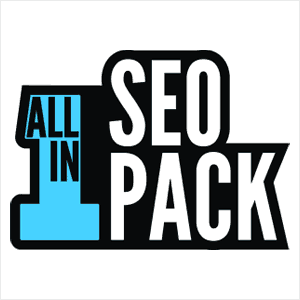 SEO, Search Engine Optimization, is one of the most powerful ways to grow your blog or business, so you need to engineer your website to take advantage of the giant that is Google.
An SEO Plugin allows you to add in keywords and metadata onto your site (among other things) that give search engines a better idea of what your website and blog posts are about.
That way, they can send you more visitors!
It's a simple solution, add a plugin which makes those options available to you so you can get on with your content creation.
Most people recommend Yoast, which is an excellent plugin. But I prefer All in One SEO. I have a guide to setting up All in One SEO right here for you.
This one is extremely important if you want to grow your website's traffic.
A Keyword Research Tool
It's important for your SEO to understand what people are searching for and how they're searching for it.
By typing in Keywords into a Keyword Tool you can see what traffic the keyword gets and how people are typing it into Google.
You can then base your articles around that keyword (or keyword phrase more accurately) and target your visitors.
There are a number of tools for this, but I good free one to start with is Neil Patel's UberSuggest.
I will be releasing more info on Keyword research in the future also!
Security plugin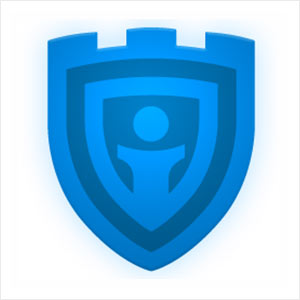 Unfortunately, there are people out there writing software designed to break into your site to take it down, inject some code and basically make your life as a blogger hell.
So you need to get on board and install solid security plugin to protect your website.
Ever since I started using iThemes security, I've never had an issue on any my sites or my 100 or client websites. So I highly recommend using iThemes security, it's free to search for within the WordPress plugin repository.
Here's my guide on setting it up!
Backup Plugin
Even if your site is hacked, hosting expires or something disastrous happens, having a backup locked and loaded is an awesome way to quickly get backup and running.
I use Backup Buddy, which is a paid plugin, because it allows you to set a schedule to do complete backups of your website as frequently as you'd like.
It also automatically backs up to:
Your hosting server
A free online storage account called 'Stash'
DropBox (which I swear by as it then automatically land son my computer)
AmazonS3
Google Drive
I've only used this on rare occasions but it's been a godsend. It's also perfect for migrating sites to another server (although if your new host can do it for you, I'd go that way).
Do not underestimate the value of a good backup!
Trello
What the hell is Trello?
Trello is an online job management system where you can create boards, columns and then job cards to track and plan your blog posts (or anything for that matter!).
I set up a board for every website I run, with several columns from 'Blog Posts to Write' to 'Schedule to Publish' and 'Promote', etc.
So you can plan and easily organise your content an blog post ideas keeping track of what stage they're at. You can upload files, leave comments and add labels for certain job types to card.
It's free, there's a phone app and you can even have teams and invite people to certain boards or cards.
There are premium plans but honestly, the free version is all you need.
Trello has been a massive game-changer for me as whenever i have an idea, I whip out my phone and add it to the appropriate board. Easy.
A List of Stock Photo & Stock Video Sites
For most people, when you're writing blog posts or creating content you can't conveniently go out and get new photos and videos for every post. It takes way too much time.
You need somewhere you can go and download photos and videos you can use in your content. You can use almost entirely free stock photos and videos, but occasionally you may need to get with a premium site.
I have created a comprehensive list of stock photo sites where you can download free photos and videos – you can find it here.
Bookmark or keep that list as a resource and refer back when you can!
Social Media Share buttons
Your posts need to be easy to share if you intend on getting more people to read it, so add some share buttons!
While you're at it, why not share this post on Facebook or Twitter? I'd love that! (bats eyelids).
There's a few options to do this. I like to link in plain text using a Share link generator like this one. Or you can add share buttons like those in SumoMe.
A Good Graphic Designer
This could be either yourself or a professional.
If it's you, then get some education, learn the tools of the trade (such as Photoshop above, or other programs like Illustrator) and absorb as much as you can about visual branding and design – which more about function than just making things pretty).
Otherwise, find a good designer to hire.
A local designer is good as you can chat with them and negotiate what you want more effectively. They speak your language and will more likely understand your perspective and give you what you're after.
As a graphic and web designer myself, I can vouch for the benefit of good communication as being the key to good design. It means your message is more easily translated into the work.
Going local can be pricey for most though, so the next step is to look at places like Upwork or Fiverr for more. You may find someone good there too.
Top Social Media Tools
So, you want to get more social media shares, (hence the plugin I just mentioned). It's one of the best ways to actively seek out more traffic for your website.
But it can be a tonne of work. So we want to find tools that make it convenient, save time and simplify the whole process.
So here's a few tools you can use!
IFTTT
Post once, go to many places!
IFTTT stands for 'If This Then That'. You can connect your social media accounts, RSS feeds, and other platforms to automatically post content for you.
Some examples:
I have it set up so that Instagram, automatically shares an image to Twitter.
When I post a YouTube video, it also automatically goes to Twitter.
When I publish a post, it goes to Facebook.
My Instagram posts also get shared on Pinterest
You get the idea…
You can come up with a flow and automation system to save you a HEAP of time and focus more on creating quality and interacting.
There are an almost endless amount of apps you can connect. I highly recommend checking out IFTTT.
Smart Phone
You have one already, right?
Smart Phones mean you can do small updates on the move, check stats, interact on social media, check emails, and even add your ideas to an app like Trello.
Phone cop a bad rap even from me. But you can't deny how useful they are when used for the right purposes.
Even a tablet or iPad can make a big difference for convenience.
Social Media Scheduling Software
Don't wake up every morning and wonder what you want to share, it takes too much time and is too inefficient.
Work it all out in one hit and plan ahead.
I use Buffer to schedule my social media and it is fantastic and really easy to use (it also has a phone app).
This will make it so you can get your brain into gear and come up with ideas more easily as once you start, the ideas keep coming.
I have a walk-through showing you how to use Buffer here. You can start for free and I highly recommend it!
Top Content Creation / General Tools
So now we're onto very specific, content creation tools.
You actually need to set yourself up with everything you need to create the quality media you intend on sharing and spreading your message with.
Without at least some of these tools, you simply cannot even start.
You don't need everything below, but it's all ideal to get the most productivity and quality out of your time.
A Camera
You need to be able to take photos and shoot videos even on a basic level if you want to have a genuine blog that reflects a sense of authenticity. Even if it's only to take the occasional picture of yourself.
You can use your phone or a dedicated camera.
If you can't afford a camera, use your phone as the cameras in most phones these days are quite good.
But if you can afford a good DSLR camera, get one.
I use a Canon Rebel T7i DSLR Camera. While I'm a skilled graphic designer and know my way around photoshop, I'm not a photographer and every single photo I take with this camera turns out amazing because it's so easy to use.
Take your time to find a good but easy to use DSLR and you will have amazing photos and video quality to add to your content.
Laptop or tablet for meetings and travel
Sometimes you have meetings.
Sometimes you travel.
Sometimes you just want to get out of your damned office!
It's good to be able showcase ideas, media or even perform some of your work on location. A tablet can be handy for the basics but a Laptop is even better for getting into the nitty-gritty stuff.
It's personal preference, but I personally find the laptop more useful but both the laptop and tablet (or iPad) is perfect for working in a fresh environment.
A Computer, preferably with a Dual screen monitor
Seriously, you need an actual computer.
You can use a laptop, but better, get a proper desktop workstation so you can sit down in an environment created for productivity. You sit down, start-up and go.
Nothing beats the keyboard and mouse spread out and set up to your personal comfort. Using touch pad can work if you're used to it, but you will never be more efficient than if you can use a mouse.
But for maximum effect, I highly recommend a second monitor!
You can set this up with a desktop or a laptop computer. a Dual Monitor setup gives you space to move things around and set up reference more easily.
If you're writing a blog post you can research or find photos whilst still being able to see or reference what you need. You can simply move your mouse from left to right without shuffling windows around.
Everything can be set up to be referenced at a glance. once you try a dual monitor setup you will never go back!
Premium Email Hosting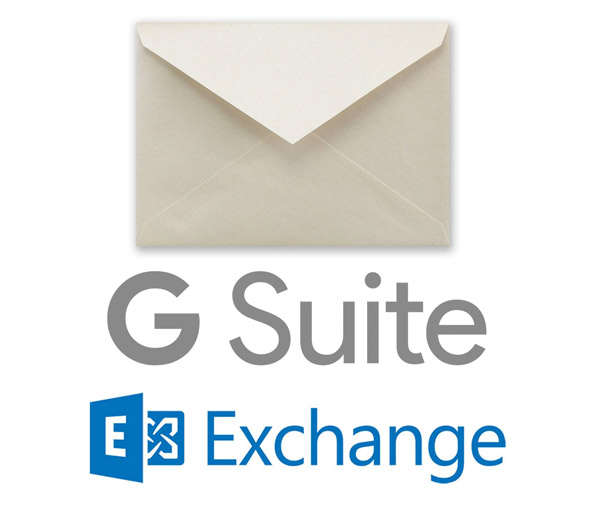 Your web host email isn't bad, but you can expect problems.
I've had crummy webhost email constantly go down. If someone on your shared server is flagged for spam, you can be lumped in with them because you're sending email from the same server – so your messages arrive in junk.
If you are willing to pay the $5 a month or so for G-Suite (Premium Gmail with your Domain ) or Microsoft Exchange then do it.
Everything is so much smoother, better and WAY easier to setup up on a program or phone.
Business Cards and other printed media
Finally, get offline and promote your website or content like a business.
Print up some business cards with your details on it or even a free offer to grow your email list. Being able to make moves outside of the internet or a computer is extremely powerful.
You can start simple with some free VistaPrint cards if you want but I recommend finding your local print shop so you can get a quote and design made for you.
This then expands to flyers for letterbox drops (or inclusion in shipped products you sell online), letterheads if you send mail to people, or anything you can physically deliver or hand someone.
Never overlook the option to spread the word of your efforts face to face.
Did I miss anything?
These are the tools I swear by and they have made running my business from home, over the internet, so much easier.
But is there something I missed? Something you swear by? Leave a comment below and let people know. I may add it to this list in a future update.
Thanks for dropping by and reading this post!