Twitter is a powerful social platform to build a following and direct traffic.
Those 280 characters you have for each tweet are an opportunity to engage your audience or drive traffic to your website. It all has to do with quality – giving people what they want.
Of course, there are a few ways you can master this level of quality and become a bit of a Twitter power user – so here are some timeless tips you can try.
Note: You can also download this post in a printable PDF format! Click here for more info.
Here's the video
Click here to skip to the written version instead of watching the video.
Please Note: by watching this video you hereby agree to the use of YouTube Cookies.
First of all – tweet your posts when they are published (duh)
Yeah, this seems pretty obvious, but if you don't release links to your content when it becomes live, then your twitter followers probably won't see it!
You don't have to be a genius to work that one out. Don't be afraid to post your link more than once either!
Be consistent
Don't go hard tweeting constantly for 2 weeks, then stop for 3, back for 1, etc, etc. You want to make sure that your presence is always there. You want to create brand awareness so that people are always hearing from you and become familiarized with your image and tweets.
When people become used to seeing you they will more than likely, based on the quality of your tweets, start engaging you more, clicking your links and possibly, buying things from your website!
It sounds like a lot of work tweeting constantly and consistently, so there's my next tip to help that along….
Schedule your tweets
Yes, you read right – you can schedule tweets! This something that can easily be done with a variety of tools.
It's as simple as logging into Tweetdeck, and composing a tweet by clicking the feather icon at the top left, you'll get this screen:
Simply type out your tweet like above, then click the 'Schedule Tweet' button below it. Set a date and time then head back up to "Tweet on (chosen date)" – as below. That easy.
Of course, there are many options, another great tool is Buffer, which allows you to simply load a list of tweets and choose regular times of the day to post. It will then simply pick a tweet (either consecutively or at random) and post at that time every day!
Just make sure you check in once a day and respond to people who are talking to you. Don't just shoot the tweets at your audience… Engage!
Use Hashtags
How do you insert a hashtag? Simply type it into your post like so: #hashtag. If you're tweeting about MMA type #MMA or puppies type #puppies. You've just used a Hashtag.
Why use them though? They can be great for tracking conversations across Twitter and helping to group your tweets into certain topics. You can, therefore, attract more people to your profile and tweets.
Like above, if you want people to see your post about puppies, use an appropriate Hashtag (like #puppies).
Of course, you may want to research a hashtag before using it to make sure it's worth using – they do suck up a few characters from your 140 character limit. Explore Hashtags.org to see which are trending and popular. Or you can simply type a hashtag into the Twitter search or click one within a tweet to see for yourself how much it is being used. You can then decide whether or not you wish to join the conversation.
Share quick tips
Quick and easy, if you are in the business of helping people with something, educating them to become fitter, better people, help their careers, etc – tweet quick and actionable tips!
By tweeting actionable tips people won't simply want to follow what you have to say for entertainment, but they'll follow you because you're giving them something they can actually use.
This one tip can make your presence on Twitter much more substantial and you'll be helping others.
Set up a winning profile
You want your profile to convert visitors into followers – and you won't make that happen without a profile image, information and a profile that looks 'alive'. This is a very basic step but should not be overlooked.
Here's a video to help make that happen:
Disclaimer: By watching this video you consent to the use of YouTube's Cookies.
Share quotes & jokes
People love quotes and jokes. Your followers want to be inspired, educated and entertained – sometimes you can best do that by finding something clever that someone else has said!
It's simple, go on to Google and search for quotes and jokes related to your niche or topic. For example, if I want to find quotes by Bruce Lee, I'd search for "Bruce Lee quotes" then you'll find lists of Bruce Lee quotes – the same for Business jokes – search for "Business Jokes" and you'll get lists of them.
The trick is finding quotes that are less than 140 characters after the name is included. For example:
Notice this one was retweeted? That's how your profile can reach more people. If people appreciate the quote you tweet, they may retweet it and your profile will then show up in their followers' feeds.
Take advantage of this and schedule one or two a day to tweet on autopilot!
Get visual, use images.
When people log into Twitter and see a feed full of text, they're going to miss a few tweets here and there. But if you've posted an image that sits among all of those tweets, it's hard to be missed!
We are visual creatures by nature, and images on Twitter are far more likely to get retweeted. As we know from previous points in this post – retweets are good! They'll take your Twitter profile further.
These days uploading an image is dead easy, when you go to compose your tweet you'll notice a button that says "attach image" – It's the same when you schedule with Tweet deck. I don't need to give you the instructions, you get the idea!
Once again, pic interesting images, possibly viral images found elsewhere or even an inspiring quote with a picture of the author. It's not hard to do or find images to tweet!
You can also try using Twitter Cards and Social Metadata on your website to enhance your links – more on that here.
Engage, Engage, Engage…
…and not just your followers.
Make friends, network, expand and find new people to interact with. While your followers (and people you follow) should definitely be engaged, you should also seek out conversations through the Twitter search feature and join in. Reply to tweets, offer your opinion or tips to solve certain problems.
This can be done by finding influencers in your niche and replying to and retweeting their tweets, interacting regularly and building a relationship. Eventually, it will pay dividends.
Tweet at the right time!
Head over to Tweriod.com and get a free report – find out when your followers are online most and tweet at those times.
Obviously, if you tweet when the most number of your followers are online, the more likely it is that they will see what you tweet. If you tweet often you can save your links or prioritize tweets for these peak hours. Dead simple
Tweet often
Why settle for one time to tweet? This step walks hand in hand with scheduling your tweets (earlier in this post).
As mentioned in the previous point, the more people online when you tweet, the more people will see your tweet. So tweet every few hours and reach a higher percentage of your following.
The more links, quotes, questions and general tweets you send out into the Twitter-verse, the more opportunity your profile will have to grow its following and send more traffic to your website!
Make sure you have a 'base' following
Yes, you can start employing all of the tips on this page pretty quickly, but if you have hardly any followers then you're leveraging a small group of people.
So I put together a handy little video for you to check out, it'll help you get your first 1000 Twitter followers:
Disclaimer: By watching this video you consent to the use of YouTube's Cookies.
If you want to read the full post, you can find it here.
When tweeting a link, don't just tweet once.
Once? Really? No…
The stream of Twitter keeps on flowin' along so you gotta give people more opportunities to see your link. So schedule your link to be shared again:
1 or 2 hours later
the next day
3 days from then
a week later
a month later
You may think people will wonder why you're tweeting this one link so often, but the truth is (if you're being active) that it will stream on through quite naturally and reach different people each time.
Also, try to schedule it for different times of the day, and reword it each time you repost it. Post it with the headline, post it with a quote from the post, address a problem it solves, etc. While we're on the topic…
Tweet the classics!
Old links need love too!
Your old posts don't have to simply die and rot waiting for search engine traffic – promote them regularly to people who haven't read them. You can simply schedule these above or if you are using WordPress you can search for and install a nifty plugin called "Revive Old Post".
This plugin also works with Facebook and LinkedIn. It's free and there are plenty of options to choose from so you can completely custom tailor your tweets. Above is only a small fraction of the options, as you can see, I post every 3 or so hours.
Share other people's links!
Give your audience more than just your best, give them the best of other websites as well! You'll enrich your profile with more expertise and also reach the influencers whose link you're sharing!
Make sure you find the author's Twitter handle and add to the end of the tweet 'via @personshandle' ('persons handle' being the name of the person).
For even more impact use Snip.Ly to share a post with a link to a post of your own embedded on the page! Just like below…
That's gnarly.
Go off topic occasionally
That's right! Be like, uh, a real person and stuff.
Remember that you are engaging other people, so show some personality and be yourself – talk about your interests occasionally or trending topics – possibly even topics you might find you and your audience have in common.
You'll find another way to engage your audience and become a familiar face. If this person regards you as a friend, they'll be more likely to trust your content and may become a dedicated fan of your Twitter profile and website.
Organize People into lists...then engage.
When you are following a lot of people, it's difficult to make sense of the massive streams of information going through your stream, so make use of lists.
You can organize certain people into lists and check on that group, singling out only those people and removing the noise. For example, I have a list for influencers so I can simply check that list and all of their tweets and respond, knowing I'm only engaging influencers. I then have a separate list for people with websites similar to mine so I can engage them separately. It's a great time saver since you don't have to go visiting each person's profile to "see what they're up to".
Creating a list is pretty easy, just go to your profile, click the Lists button then click on 'create new list'
Give your list a name and description, then search for people to add to your list! Then click the cog next to their name and then "Add or remove from lists". The rest is pretty self-explanatory!
Ask for the occasional retweet!
Want more retweets? Then Ask!
Retweets on your links can aid in building authority for SEO and also spreads your tweet/link to more people in the Twitter-verse. So try adding a little "please retweet!" at the end! Nice and easy.
Try out JustRetweet
So, technically this is another way to ask for retweets ;)
Sign up over at JustRetweet.com and you can retweet, 'like' and 'plus one' a series of tweets & links in exchange for points. You can then use those points to get other people to retweet your content.
This is a great way to kick start your retweets and reach more people.
Talk about yourself less, be more useful
Tweeting pictures of your dinner, sharing your love life or just going on repeatedly about yourself is a terrific strategy to keep a small, un-engaged following.
Don't avoid it completely (I just recommended personal tweets earlier). Just minimize it.
Instead, be useful. Like I said earlier – tweet small tips but also share relevant links, answer questions for people and be entertaining. People want quality so offer it to them!
Be positive
Ever been around one of those people who just whines and complains and it brings you down? On the flip side have you ever spoken to someone positive you got all pumped up and excited just by being around them?
Be the positive person and pump up your followers!
When Followed, Follow Back
You've heard the old strategy, follow someone and they'll follow you back. Well, when someone follows you they've done half the work for you so follow them back and they'll be less likely to unfollow you!
You can keep an eye on your Twitter and do this as the follows come in, or you can do it more easily using Tweepi. Just sign in and hit the reciprocate button to bring up a list of people who follow you, that you don't follow back!
Follow new people if they are interested in your niche!
You obviously want followers and you're bound to see people following and interacting with other people within your niche or topic who don't follow you.
So follow them! They may follow back.
The chances of them following you are slimmer if they don't know you exist, following them puts you in their stream of notifications. So it's worth doing.
If they don't follow you back you can always unfollow them later – but you may find they share interesting content anyway, which is what this is all about!
Stop 'App' Tweets
Ever seen one of those tweets that say "@thisperson and several other unfollowed me today, via @unfollowdouche". Seriously, no one wants to hear that shit and you look stupid for tweeting it.
Just turn it off.
Clean up your follows
If you follow someone in hopes of them following back and they don't – unfollow them! But give them a few days at least.
It's important to have slightly more followers than people you follow – once you are following 2000 people, you need more followers than 2000 simply to follow more people. So unfollowing and cleaning up your list is important.
You can do this with Tweepi, also! Just log in and click on the button 'Flush'.
Then go through and click unfollow on those people who don't follow you!

Need to clear up more of your follows? Back to the Tweepi dashboard and click 'Clean Up'

Then go through and find people who haven't tweeted for a few months and unfollow them.
Why? If they haven't tweeted for some time then chances are they haven't been online to see your tweets. Plus, you're not seeing tweets from them anyway.
Always tweet Monday – Friday!
Tweet Smarter (now shut down) did a study that showed some conclusive results – people engage and retweet more during the work week, Monday to Friday.
To be even more specific, these retweets happen more before 8pm during the week or 3pm on Friday afternoon.
Use 268 Characters
If you want your content to be shared and retweeted, then leave 12 characters so people can type 'RT @yourname'. That way you won't lose any of your tweet. So try sticking to 268 characters – leave 12 free!
As a matter of fact, make it 71-100 Characters
Wait, what? You just said "Use 268 Characters"!!
Ok, this is different – the reason I recommend using 71-100 characters in some of your tweets is statistics. I 'stole' this graphic from Neil Patel over at QuickSprout:
He did a little research and found that tweets with 71-100 characters got more retweets! That's something to consider.
Use popular words
Once again, Neil Patel is educating us on our tweets, from the same QuickSprout post he mentioned a group of words that are more likely to be retweeted. The most popular are:
follow
free
please
retweet
you
great
media
twitter
social
10
media
post
blog post
check out
If you have a place for those words in your tweet – then make use of them!
Tweet about Twitter.
You may have noticed above that Twitter is a powerful word for retweets. That's because people on Twitter love to read more about Twitter!
If you're an average Joe on Twitter, chances are you want to enhance your 'tweet mastery' a little and better understand the platform, so they want more info. If you're a business or website owner on Twitter – you're definitely going to be out to learn more about Twitter if you're tweeting.
Either way, if people are interested I learning more about Twitter, chances are they're using it – so it's the best place to talk about it!
Also, avoid these words
Remember those powerful Twitter words? Well, there's a list of words worth avoiding that are statistically weak and receive less engagement:
game
going
haha
lol
but
watching
work
home
night
bed
well
sleep
gonna
hey
tomorrow
tired
some
back
bored
listening
Notice a pattern? Dan Zarella previously presented these results recognized it pretty quickly – they're boring, idle chit-chat.
People don't want to know how well you sleep or what movie you're watching tomorrow. Once again, offer value.
In saying that…
Post more conversational tweets on the weekend! People are more relaxed and willing to socialize on weekends, business is usually the last thing on their minds. So if you do share personal tweets, aim it at the weekend!
Ask questions
Engagement is good for your Twitter Profile. So asking a question is a great way to invite it.
Make the question relevant and try to ask something people want to answer. Opinions are effective as a lot of people want to chime in and give their two cents. This can often lead to a conversation between you and a number of people.
Mention other people
Talk about and mention other people in your niche on Twitter. This also comes down to tweeting about things other than yourself.
You can create a more approachable feel and encourage more interaction by spreading the word about others, interacting and mentioning real people. This makes you a part of the Twitter-sphere, not just a person yelling into it.
Jump on the #FollowFriday bandwagon
Follow Friday is a hashtag people use to recommend other Twitter accounts to follow.
This brings about that sense of community as you can build a friendship with people you recommend. Also, if people see you doing Follow Friday they are inspired to join in and start recommending you also. It's a win-win!
All you have to do is type the hashtag '#FollowFriday' or '#FF' followed by a list of Twitter usernames. It should look like this:
Find a Retweet Group
Every so often you want to add a little oomph to your retweets. Well, there's one way you can do that – follow a retweet group!
All you have to do is follow the retweet group and add their hashtag to your tweet. That's it! It'll then get retweeted by the group, always check out the instructions though as some groups may be different.
For example, here's a tweet of someone using the #bmrtg hashtag from the group @bmrtg (Business Marketing):
This tweet is then retweeted by the group to over 25,000+ followers. Not bad!
Did I miss anything?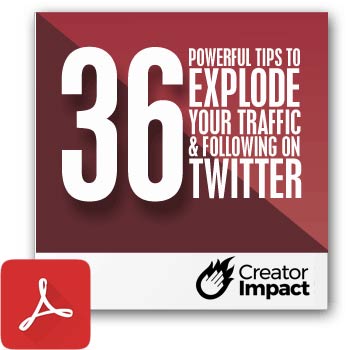 Yeah, of course, I did!
This can't be absolutely everything but I highly recommend trying the above tips.
If you know of any other useful tips, please share them in the comments below! Otherwise, if you find this post useful, please share it using the buttons below or to the left.
Tweeting this post to your followers would make my day :) Tweet it now!
Finally, if you want to download this guide in a pdf format (requires Adobe Reader), perfect for print, viewing or viewing on a portable device or tablet just click here (or on the image).
If you do download the PDF, I just request that you sign up for my newsletter below and I'll send you a link to a downloadable version!